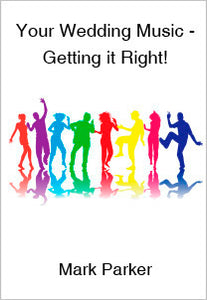 Your Wedding Music - Getting it Right!
Regular price £4.99 £2.99 CLEARANCE PRICE
Your Wedding Music - Getting it Right!
By Mark Parker
Written by DJ Mark Parker, this short-but-sweet guide to getting wedding music right draws on its author's ten years in the industry to offer tons of top tips for enhancing events with music and entertainment. 

Band, DJ or both? CD, mp3 or streaming? What effect will a request list have on the night? Why will the music flow better if a DJ is hired? These are just some of the questions answered by Mark, as he covers everything from selecting music for the ceremony, reception, first dance and party, to choosing the right DJ and hiring equipment. 

Driven by his passion for music and enjoyment at seeing people react to it, Mark Parker continues to mix music for crowds of up to 1000 guests, at weddings, club nights, corporate events, award ceremonies and conference parties. Having experienced a range of audiences, venues and situations, and worked alongside countless other DJs, bands and entertainers, Mark has condensed this experience and knowledge into an easy-to-read but highly informative guide. 

Whether you want a useful tool for planning consultations, or an affordable gift to give away to clients, 'Your Wedding Music - Getting it Right!' is a valuable addition to any mobile DJ's bookshelf.