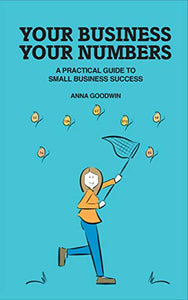 Your Business Your Numbers
Regular price £8.99 CLEARANCE PRICE
Your Business Your Numbers: A practical guide to small business success
You may have been running your small business for some time, or you may have just started out on your business journey. But you feel stuck.

- You know you need to set goals but don't know where to start.
- The complexity of budgeting and pricing is giving you a headache.
- You can't understand where your time goes.
- Your profit margins are low but what can you do about it?
- Understanding and managing your accounts has become a daily battle.

Your Business Your Numbers will guide you in discovering how to run your business your way. This practical book will help you to understand your personal strengths, weaknesses, passions and preferred way of working. Topics covered include:

- goal setting,
- time management,
- pricing,
- budgeting,
- managing your business,
- personal finances, and
- understanding your accounts.

Anna Goodwin is a great believer in getting to grips with your numbers to take control of your business. Your Business Your Numbers offers:

- thought-provoking questions,
- practical exercises, and
- real- life examples to set you firmly on the road to success.

Anna drills down into each topic in her usual jargon-free and straightforward manner, giving you the tools you need to meet success head-on.

Whether you're a start-up or a few years down the line, Your Business Your Numbers tackles the more challenging aspects of running your own business and encourages you to discover the solutions that are right for you and your business.