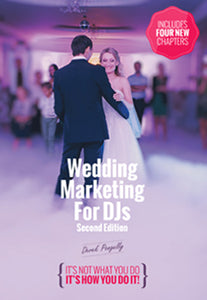 Wedding Marketing For DJs Second Edition
Regular price £12.99 CLEARANCE PRICE
By Derek Pengelly
The best-selling book for UK-based wedding DJs has been updated with four chapters - over 5000 words - of new content!

ABOUT DEREK PENGELLY

Derek Pengelly has been a mobile DJ since his late teens when DJs had little choice but to build their own equipment and pursue a hobby which occasionally paid them a bob or two. Over the years he has provided music for just about every conceivable occasion, although he developed a passion for Weddings. He has travelled thousands of miles seeking information, education and training, yes training, in order to be able to produce fantastic, fun and memorable wedding DJ entertainment. This enabled him to offer premium wedding services for discerning couples at fees that were often
two, three or four times higher than the local average. Derek is also a passionate advocate of mobile DJs, keen to pass on his knowledge and experience. He was instrumental in the formation of the National Association of DJs and served as its chairman for a number of years.

ABOUT THIS BOOK

Thirty years ago, when Derek started out as a DJ, he didn't think that he needed a book to show him what to do or how to do it. Twenty years later, he was good at what he did, but knew he could do better. At that time Derek would have loved to read a book, written specifically for mobile DJs, to help him raise his game and get more work. Unfortunately such a book didn't exist in the UK. Instead he travelled across the country and around the world seeking out ideas and information. Ten years later, following his early retirement to Cyprus, Derek has put together everything he has learnt about being a wedding DJ and marketing to brides in this book. It doesn't matter if you're just starting out, or are already a veteran DJ, this book will help you to improve your performance as well as your DJ business. After all, 'It's not WHAT you do, but HOW you do it which gets results'!

Derek Pengelly has committed to donate his Author Royalties from the sales of this book to NADJ (National Association of DJs) and SEDA (South East DJs Association).