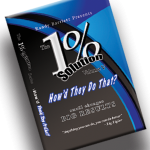 Volume 5 - How'd They Do That?
Regular price $76.00 CLEARANCE PRICE
Always wonder how some DJs are able to create and project incredible monograms without a production company background?  How about a jaw-dropping shadow entrance of the bride and groom or creating breath-taking audio edits that bring the entire room to tears?
This DVD, presented with fellow Wedding Entertainment Director™ Mike Anderson shows the viewer the specific methods, with step by step instructions to create great effects, including:
Dancing On The Clouds
Shadow Entrance
Wedding Snap
Best Wishes
Monograms – creating your own and projecting using your projector
TV Slideshow
Photoshop Editing
Cool Edit Pro – Vocal Overlay, editing music, looping, shortening songs
Sony Vegas Monogram Animation
And more!
This DVD will take you step by step through each phase of the effect, including screen capture software training and will show you how to use your existing gear to maximize income.  Even if you already know some methods for some of these effects, you're sure to learn new and innovative techniques that will make this DVD pay for itself at your next event!