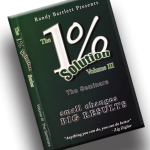 Volume 3 - The Seminars
Regular price $38.00 CLEARANCE PRICE
The 1% Solution – V.3, The Seminars, offers you three of Randy's most popular seminars, delivered live in their entirety. The first, The 1% Solution, was the smash hit of the 2002 Mobile Beat Show and Conference in Las Vegas, and was repeated in Atlantic City for DJ Times International DJ Expo. This is the seminar that started it all and made "1%" part of the international DJ vocabulary.
The second, The 1% Solution – Weddings, was presented at the 2003 Mobile Beat Show and Conference in Las Vegas and included contributions by Peter Merry, author of The Best Wedding Reception…EVER! and the founder of the WEDGuild.  This seminar revolutionized the way DJs prepare for and perform at weddings around the world.
The third seminar, The Wow Factor, was presented in 2006 at both Mobile Beat Conferences, in Las Vegas and Orlando and took mobile entertainment to a new level.  Filled with ideas that will make your phone ring with clients anxious to book you at a premium rate, this seminar shows both the pitfalls the can cost you referrals as well as the WOW Factor techniques which will cause the demand for your services to soar.
Although the video quality on this DVD is not nearly as good as the others, the content is almost 5 hours worth of gold!