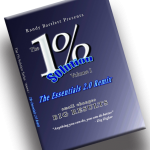 Volume 1 - The Essentials - 2.0 The Remix
Regular price $63.00 CLEARANCE PRICE
Volume 1 – The Essentials – The Remix, takes the viewer through everything from set-up to end of party, showing real life and easy to use methods to improve your performance 1% at a time. It's called The Remix because it was updated in 2015, with new video samples, production and instructional sections.
This DVD covers music mixes, timing, recognizing and achieving your performance objectives, client comfort at events, delivering applause lines, transitions, wording changing for success, introductions, staging, subtle to wild interaction, creating energy on the dance floor, voice-to-music matching techniques, centerpiece giveaways, aesthetics and more, and challenges you by giving you methods to critique your own performance.
This DVD is filled with actual video footage of events performed by Randy Bartlett, his staff of DJs, and other DJs, with both good and bad examples. It includes performances both in and out of the DJ industry which will show the viewer how to learn from many different sources.