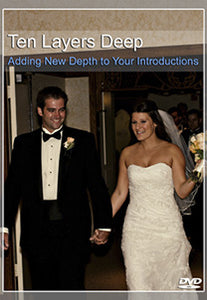 Ten Layers Deep (DVD-09)
Regular price $58.00 CLEARANCE PRICE
By Peter Merry
Adding More Depth to Your Introductions

For over 14 years, Peter Merry has been developing and delivering some of the most creatively fun and uniquely personalized grand entrances in the wedding entertainment industry.

In this DVD, he will explore planning for the best staging with 3 different layers of staging options that should be considered. Then he will examine preparing some amazing sweetening options with 2 more vital layers that cannot be overlooked. And finally, he will share 5 layers for personalizing your content will help you put together wedding party intros that are truly fresh each and every time.

If you are tired of just doing and saying the same things for your grand entrances, maybe its time to start taking your wedding party introductions Ten Layers Deep!

This DVD also includes a Bonus CD-Rom with a printable PDF fill-in-the-blanks handout. This has been included to improve your retention of the content. You will also find an MP3 version of the content that you can load onto your smart phone, iPad and/or computer.