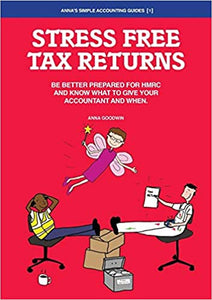 Stress Free Tax Returns
Regular price $7.00 CLEARANCE PRICE
Stress Free Tax Returns: Be better prepared for HMRC and know what to give your accountant and when
Does the thought of completing your tax return bring you out in a cold sweat?
Do you wonder what your accountant needs when they ask for your books?
Do you worry about where to start when you need to file your tax return?
In Stress Free Tax Returns, Alan and Bert take you through every step of completing your tax return. They show you what you need, how to get everything organised, and how a little work done throughout the year makes the process a lot easier and stress free.
This illustrated guide helps you to put everything in place for your tax return. A cartoon version of Alan and Bert discuss the process and they are given advice at every stage by Anna, the friendly accountant.