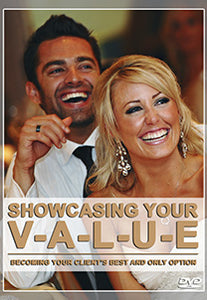 Showcasing Your V-A-L-U-E (DVD-06)
Regular price $71.00 CLEARANCE PRICE
By Peter Merry
Becoming Your Client's Best and Only Option

The biggest challenge most wedding professionals face is artfully communicating why their products and services are a better choice in an effective yet humble way.

We all plan for our couples big day. In This DVD, Peter Merry will show you how to plan a sales presentation that will leave your prospects wondering why they should even bother meeting with another wedding professional. If you can show them why you are the best value, they will pay your price and rave about it!

Using the word V-A-L-U-E as a memory tool, Peter will lay out a logical, methodical approach for organizing and presenting your best selling points in a manner that will connect with your clients deepest desires as well as their (perhaps yet unknown) expectations for your services. You will also learn 5 simple questions to ask at the end of each segment to verify their interest and elicit positive buying signals.

This DVD also includes a Bonus CD-Rom with a printable PDF fill-in-the-blanks handout. This has been included to improve your retention of the content. You will also find an MP3 version of the content that you can load onto your smart phone, iPad and/or computer.