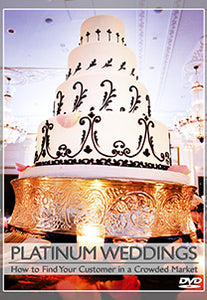 Platinum Weddings (DVD-04)
Regular price £45.00 CLEARANCE PRICE
By Peter Merry
How to Find Your Customer In A Crowded Market

Some wedding professionals have aspirations of making a name for themselves by servicing the ultra high end weddings that are often attended by celebrities, politicians, and billionaires.
In this DVD, Peter Merry will share some insights provided by wedding pros who have made such dreams into their reality while sharing some simple and effective methods for finding your own dream platinum wedding clients.

You will learn how to define the target market you want to service and how to attract the right kind of clientsinstead of just the most clients. And Peter will share how he has been able to find most of his platinum weddings among regular everyday folks who are neither rich nor famous.

Learn how to develop outrageous demand for your unique services while creating raving fans who all agree that you truly deliver platinum weddings for each and every one of your couples.

This DVD also includes a Bonus CD-Rom with a printable PDF fill-in-the-blanks handout. This has been included to improve your retention of the content. You will also find an MP3 version of the content that you can load onto your smart phone, iPad and/or computer.