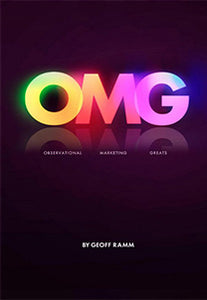 OMG Marketing
Regular price $17.00 $13.00 CLEARANCE PRICE
Observational Marketing Greats
By Geoff Ramm
When the competition goes one way, do you follow them or od uoy og eht rehto yaw? That's the question that marketing expert Geoff Ramm asks - and answers - in his brilliant book, OMG. 

Filled with tricks and tips taken from real-life business situations, Geoff Ramm uses the book to show you how thinking outside the box is what makes for more effective marketing. With examples from across the globe, he shows you some of the most jaw-dropping and memorable marketing, branding, sales, promotions, PR work and customer service from businesses and people who know exactly how to stand out from the crowd. 

Someone with a genuine passion for his subject, Geoff is not only a well-respected author, but also a multi-award-winning speaker with an infectious style. Having challenged and inspired audiences across five continents, Geoff - known as the Billy Connolly of marketing - is a trusted figure who receives rave reviews, both for his books and for his hilarious and engaging presentations.

If it's inspiration you're looking for, the advice and real-life situations found in OMG - Observational Marketing Greats - will soon have you coming up with loads of creative new techniques to market yourself and your mobile DJ business in a truly original way.