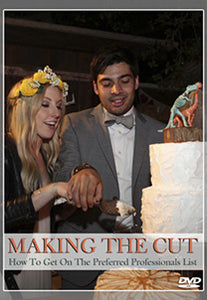 MAKING THE CUT
Regular price £30.00 CLEARANCE PRICE
By Peter Merry
How To Get On The Preferred Professionals List
Being highly recommended by a fellow wedding professional can play a large role in boosting demand for your services. While wedding locations are often on the top of the food chain of professional services selected by brides, it is still very valuable to gain word of mouth recognition from other wedding professionals who may often be commonly ranked below your services.
Some brides today will book their photographer before they choose their location. Knowing this makes it very important to be touted by a wide variety of wedding professionals who are eager to recommend your services.

In this DVD, Peter Merry will share some effective techniques for earning the confidence of your fellow wedding professionals. He will explore several methods to avoid in pursuing a spot on these qualified referral lists while unpacking a few basic steps you can take to have other pros rave about your services so youll be seen as the top choice on their recommendation lists.

This DVD also includes a Bonus CD-Rom with a printable PDF fill-in-the-blanks handout. This has been included to improve your retention of the content. You will also find an MP3 version of the content that you can load onto your smart phone, iPad and/or computer.