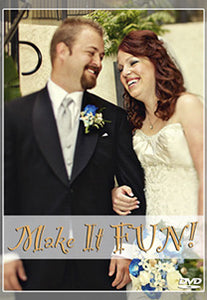 Make It FUN!
Regular price £24.00 CLEARANCE PRICE
By Peter Merry
Peter Merry is the author of The Best Wedding Reception Ever! which has sold over 30,000 copies. His book features over 230 creative ideas for making weddings more FUN.

In this DVD, using engaging stories, photo examples, and some highly entertaining video clips, Peter will share his latest ideas for creating memorable moments at your wedding receptions.
You will learn why personalizing the FUN at your receptions will increase your demand and your earning potential. You will be given some simple methods for developing new, personalized ideas into workable interactions. And finally, Peter will reveal his predictions for the future trends and expectations for wedding entertainers.

The more brides understand how truly FUN their celebration can be, the more they will be looking for entertainment services that are qualified and prepared to help them make that happen.

This DVD also includes a Bonus CD-Rom with a printable PDF fill-in-the-blanks handout. This has been included to improve your retention of the content. You will also find an MP3 version of the content that you can load onto your smart phone, iPad and/or computer.