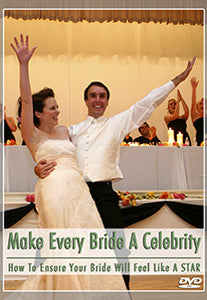 Make Every Bride A Celebrity
Regular price £45.00 CLEARANCE PRICE
How to Ensure Your Bride Will Feel Like A STAR
By Peter Merry
Whether it be Facebook, YouTube, Twitter, or Reality TV, today's world is creating too many celebrities for even the Daily Mail to keep up with. Yesterday's bride dreamed of being a Princess on her wedding day. But more and more of today's brides are looking forward to enjoying the same limelight as a Hollywood star at a red carpet movie premiere.

In this DVD, Peter Merry shares insights about the expected protocols for servicing actual celebrity clients on their wedding day while giving some real-world examples every wedding professional can use to make their brides (and grooms) feel like the A-List Stars they truly are at their own wedding receptions.

Peter has worked with celebrity wedding planner, David Tutera, and he has been a featured speaker with several well-known wedding industry icons including: Colin Cowie, Preston Bailey, Diann Valentine, and Grace Ormonde.

This DVD also includes a Bonus CD-ROM with a printable PDF fill-in-the-blanks handout. This has been included to improve your retention of the content. You will also find an MP3 version of the content that you can load onto your smart phone, iPad and/or computer.