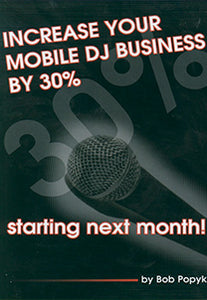 Increase Your Mobile DJ Business By 30%
Regular price £11.99 £8.99 CLEARANCE PRICE
Starting Next Month!
By Bob Popyk
This book contains many suggestions and ideas for increasing your Mobile DJ business right away. You will find advice on finding new customers, effectively following up leads, building repeat business and much more. This book offers a unique angle on the topics covered, as the author isn't a mobile DJ, but a customer. Bob Popyk has been writing articles on sales and marketing for the music industry since 1980 in an informative yet laid back style. His insightful comments and advice make this book a one of a kind read. See if you can increase your business by 30%. 


Extract from the book:

There are lots of ways to increase your mobile DJ business. For Example, you could:

- Double your advertising budget
- Reduce your prices drastically
- Open a location in another city 

But that's not what this book is about. It's about making money, not spending it. It's about taking the resources you already have and putting them to better use. In fact, you may find that you can increase your mobile DJ business while spending less than you're accustomed to. 

Where do you start? Go and get a note pad and a pencil. This will be easier than you think. Draw a line down the middle of a page. On one side write: 'Things to Do', and on the other side write 'People to Call'. Now, as you read this book, make some notes. You'll find that after just a few chapters, you'll start to develop a game plan that you can put to use this month to increase your business next month. And while you're doing it you'll have a chance to put down the names of some customers and prospects to call, too. 

Getting started with a plan to increase your mobile DJ business means making the most out of every single incoming call, looking for referrals, creating new prospects, staying in touch with previous customers, following up leads and possibly bringing your sales skills up a notch. Don't forget about customer service. That's a really great sales tool if you know how to implement and use it. After that, it's just a matter of putting your plan into action. Everybody has their own routine of finding more gigs. What do you do? Think about it over coffee in the morning? Wait for customers to call? Think about it while you are having lunch? I bet that if you changed your routine just a little to focus on finding more customers to talk to, your bookings would change for the better as well. 

It's a simple formula:
More Prospects / Customers = More Bookings. 

Too basic? Well, the more people you talk to about your DJ services, the more bookings you'll get. Each day, you want to concentrate just a few minutes on where your next customer is coming from. Take a look at your note pad. Who do you write to? Who do you call? Let's get started by thinking about where your next gig might be coming from...