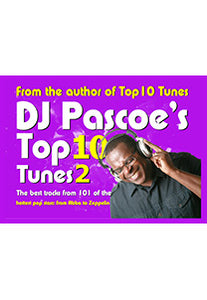 DJ Pascoe's Top 10 Tunes 2
Regular price £7.99 £4.99 CLEARANCE PRICE
The best tracks from 101 of the hottest pop stars: from Abba to Zeppelin
By Pascoe Sawyers
Following the success of his first publication, DJ Pascoe is back with another compact book bursting with musical knowledge. This time Pascoe has compiled 101 top ten lists, each one highlighting the hits of a different musical act, from Abba to Zeppelin.

 



Each top ten list features the year each track was released along with a brief biography of the recording artist in question as well as an interesting trivia fact about them. This makes DJ Pascoe's Top 10 Tunes 2 a great read as well as a useful resource for all DJs from aspiring amateurs to established professionals.

 



Top ten lists include: Amy Winehouse, Aretha Franklin, Barry White, Basement Jaxx, The Beatles, Beyoncé, Blondie, Bob Marley, Bruce Springsteen, Bruno Mars, David Bowie, Dolly Parton, Earth Wind & Fire, Elton John, Elvis, Frank Sinatra, Jamiroquai, Katy Perry, Lady Gaga, Madness, Madonna, Michael Jackson, Nirvana, Oasis, Prince, Pulp, Queen, Rihanna, Rod Stewart, Snoop Dogg, Stevie Wonder, Take That, Tina Turner, UB40 and many more.