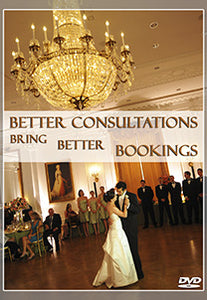 Better Consultations Bring Better Bookings
Regular price $84.00 CLEARANCE PRICE
By Peter Merry
As wedding professionals, we all put in countless hours to prepare for our clients weddings and receptions. Yet how many of us will show up to an initial sales meeting completely unprepared?

With this 140 minute DVD, you will find out why the first 15 minutes of a sales consultation may be the most important. You will discover how to help your clients uncover their real needs while demonstrating that you truly offer the best solutions to the challenges they are facing. And you will learn how to show the real value of your services.

You will NOT learn how to coerce anyone into choosing your services. Rather, you will find out how to develop a relationship with your clients that can lead to years of highly qualified referrals.