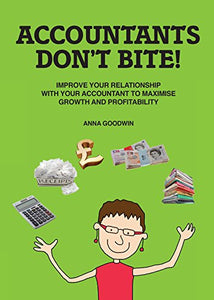 Accountants Don't Bite!
Regular price £10.00 CLEARANCE PRICE
Accountants Don't Bite!: Improve Your Relationship with Your Accountant to Maximise Growth and Profitability.
Over the years, I've been continually surprised about people's attitudes towards accountants; this tends to veer from contempt to fear. An accountant should be there for their clients and can't operate without them.

In order to dispel the idea that an accountant is a necessary evil, I decided to write this book.

I demonstrate how you can have a relationship with your accountant and how you can work together harmoniously.

If you haven't built a strong supportive working relationship with your accountant then I would urge you to communicate with them. If you don't feel that they will change, you will need to make a decision as to whether a change of accountant more suited to your needs would be better.

The chapters in this book will cover what you should expect from your accountant. They are:

Regular communication
Guidance and straight forward advice
Clear deadlines
Take account of your skills
Partnership – 100% on your side
Use of the accountant's skills and expertise
Help to take your business to the next level
Helping to develop relationships
This book will help to define what you should expect from your accountant and how you can improve your relationship.

My aim in writing this book is for you to go away feeling more in control of the relationship with your accountant. By giving you guidance, you will be able to recognise whether your accountant gives you the support that you require. If not, it is very easy to find an accountant who will suit you better.

Enjoy discovering more about what is possible when you have a strong relationship with your accountant.